New set-top box to be unveiled September 9.
---
Apple TV Overview
First introduced in 2007, Apple's set-top box has always been described as a "hobby project" for the company. Designed to provide consumers with access to movies, TV shows, sports, music, and more, the device has never been a top seller. Despite that fact, Apple has continually supported the Apple TV, introducing new versions on a regular basis.
Over the course of the last three years, Apple has taken an even greater interest in the Apple TV, heavily boosting its functionality through both content offerings and hardware improvements. In addition to content from the iTunes Store, the Apple TV now offers more than40 different channels, ranging from HBO GO to Netflix, with further deals said to be in the works.
Apple's growing focus on content deals, along with specific comments from Steve Jobs on the company's interest in the television arena, has spurred countless rumors questioning the future of the device. Speculation has suggested that the Apple TV could be expanded into a gaming device, a cable box replacement, a full-blown television set, or a combination of all three.
Though the exact future of the Apple TV is still up in the air, it is clear that Apple has ambitious plans for both the device and its ultimate role in the television industry. As Apple CEO Tim Cook has repeated multiple times, television remains an area of "intense interest" for the company.
The most recent rumors have suggested that the next step for the Apple TV is a new set-top box that's accompanied by a web-based streaming television service. The updated Apple TV is said to include a slimmer design, an A8 processor, additional storage, Siri support, a touch-based remote, and a full app store for downloading apps and games. Apple is also developing a "TVKit" SDK for developers, allowing them to create apps for the set-top box.
Apple was originally expected to introduce a revamped Apple TV set-top box and a new television serviceat its Worldwide Developers Conference, but neither product was ready for debut. More recent rumors say Apple is planning to release the new Apple TV in September, alongside new iPhones.
Though the Apple TV is expected to launch this fall, the launch timeline for Apple's rumored television subscription service is less clear. Apple has reportedly not yet inked all of the deals it needs to debut the service and it will not be released until 2016.
The Apple TV will be introduced at Apple's iPhone-centric event, set to take place on Wednesday, September 9 in San Francisco. The Apple TV will likely ship out to consumers shortly after it is unveiled, in mid-September.
What's Next for the Apple TV
Apple's work on a full television set has been officially shelved for the time being, but the company is continuing to work on revolutionizing television through a redesigned Apple TV and an accompanying subscription television service.
While the Apple TV was expected to debut at WWDC, its release has been pushed back to September. Rumors have suggested the updated Apple TV will be a "significant overhaul" of the existing version, with support for Siri and an App Store.
It's said to feature Apple's A8 chip and a "dramatic increase" in internal storage. With the addition of Siri, the Apple TV will be able to control HomeKit-enabled home automation devices via voice. Previous rumors have confirmed that the Apple TV will serve as a home automation hub for HomeKit devices when they launch. It will not feature 4K video streaming, but it will come with a remote that includes a "touch pad" for navigating through the Apple TV interface. The touch pad may be similar to the navigation tools in the Remote app for iPhone and Apple Watch.
Apple's rumored subscription television service was also not ready to launch at WWDC, with Apple nowplanning to launch it in 2016. The service is said to be a web-based offering that will bundle approximately 25 channels for $30 to $40 a month. Apple is in talks with several content providers, including ABC, CBS, Fox, Disney, Viacom, and Discovery.
Based on the rumors that have circulated, Apple's television strategies have continually shifted over the past few years as it has failed to establish necessary deals to fulfill its ambitious television plans. In 2014, Apple reportedly scaled back on its plans for a television service due to ongoing negotiation troubles, but the continued adoption of other web-based television services may pave the way for Apple's future service.
In January of 2014, Apple revamped its online storefront, adding a new category for the Apple TV alongside the categories for the Mac, iPad, iPhone, and iPod product lines. The Apple TV's new prominence on Apple's website suggests that it may be moving out of the "hobby" status that it has long been assigned by Apple executives.
In May of 2014, Apple's iTunes chief Eddy Cue said today's TV experience "sucks" and "has a long way to go." He confirmed that Apple is continuing to work on a way to improve television, but a fix is "complicated."
The Apple TV Today
Apple's third-generation Apple TV was originally released in March of 2012, featuring the smaller box design that debuted with the second-generation Apple TV, 1080p video support, and redesigned software. This latest generation box received a minor update in January 2013, adding a smaller A5 chip but leaving core functionality unchanged.
In addition to playing movies, music, podcasts, and television shows obtained through iTunes, the Apple TV offers content from a multitude of third-party channels. It also supports AirPlay, allowing iOS devices and computers running iTunes to send streaming music to the television. iOS devices and Macs running OS X Mountain Lion can also take advantage of AirPlay Mirroring.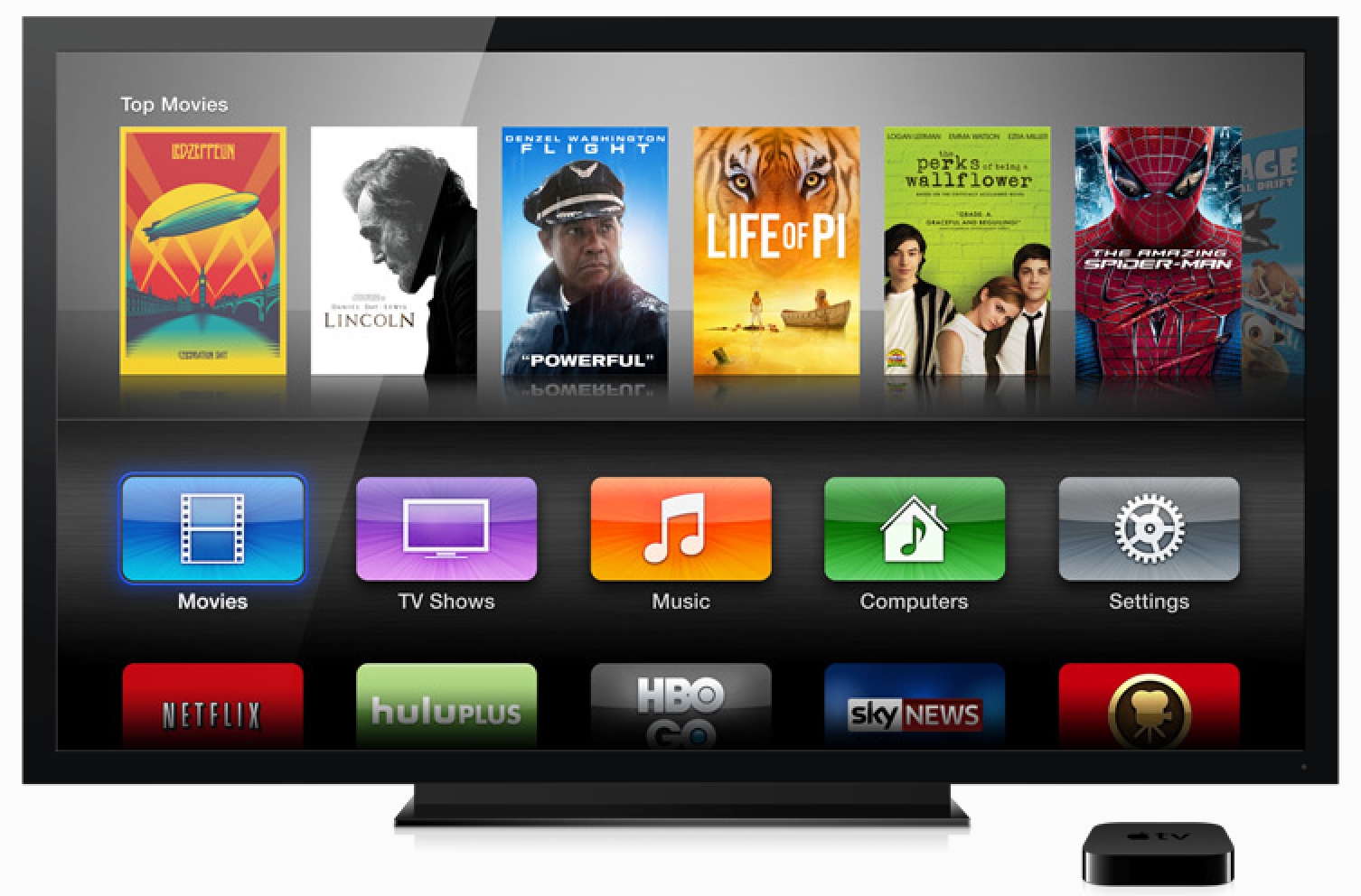 Now priced at $69, the box supports Bluetooth and 802.11a/b/g/n Wi-Fi. It includes an Ethernet port, a Micro-USB port, HDMI, and Optical audio.
Current channels in the U.S. include iTunes Movies/TV Shows, iTunes Music, iTunes Radio, Podcasts, Photos/Videos, YouTube, Flickr, Vimeo, Netflix, Hulu Plus, HBO GO, Disney, Disney XD, Disney Junior, Smithsonian, Sky News, WatchESPN, MLB.tv, NBA, NHL GameCenter, Major League Soccer, Vevo, Qello, WSJ Live, The Weather Channel, Crunchyroll, Yahoo Screen, PBS, ABC, Bloomberg, Crackle, KORTV, Red Bull TV, WWE Network, ACC/Campus Insiders, A&E, the History Channel, the Lifetime Channel, ABC News, PBS Kids, AOL On, Willow, CNBC, Fox Now, NFL Now, Showtime Anytime, Beats Music, FXNOW, A&E's Fyi, Hallmark's Feeln, CBS News, UFC, The Scene, Fusion, Dailymotion, 120 Sports, Tennis Channel Everywhere, Ted, Tastemade, Young Hollywood, CNNGo, HBO Now, NBC Sports Live Extra, CBS Sports,USA Now, National Geographic, Showtime, and iMovie Theater, designed to work with the iMovie app.
The Apple TV's latest major software update, released alongside iOS 8, added a new look for the device's on-screen interface, bringing new icons designed to resemble the icons in iOS 7, with a flatter, less glossy appearance.
The update also included support for several features that were built into iOS 8 and OS X Yosemite, like Family Sharing and iCloud Photo Support. It also brought a new Beats Music channel to the Apple TV.
It has been well over 1,000 days since the last official update Apple TV, suggesting that the product is overdue for a refresh. For reference, there was a 553-day gap between the second-generation Apple TV and the third-generation Apple TV. It continues to remain unclear when the Apple TV might see an update.
Content Struggles
Hints that Apple could be working to become a major player in the television broadcasting industry first surfaced in 2009, when The Wall Street Journal reported that both CBS and Walt Disney were considering participating in a subscription television service offered by Apple.
Such a service would potentially replace cable packages, allowing consumers to untether themselves from existing cable providers and existing subscription packages, which do not allow for a la carte channel purchases. CBS CEO Les Moonves later confirmed that CBS had indeed been in talks with Apple about a subscription service, but had ultimately declined due to fears that providing content to Apple would interrupt existing revenue streams, an issue that Apple has faced time and time again in its ongoing content negotiations over the years.
The Wall Street Journal further announced in 2011 that Apple was in the process of developing "new technology to deliver video to televisions," as talk of an a la carte subscription service continued, but still,negotiations remained difficult and Apple's plans failed to come to fruition. The company did, however, continue to grow its app library, adding content options like Netflix and Hulu Plus.
Because the deals to facilitate a subscription service that skirted cable companies all together were not going to materialize, Apple began to shift focus, working with cable companies instead of attempting to compete against them. In 2012, The Wall Street Journal reported that Apple was aiming to wedge itself between cable companies and consumers, designing a set-top box to play live television in lieu of a traditional cable box.
Apple was said to be in talks with cable providers like Comcast and Time Warner over a service that would see Apple combining cable content with its own interface and additional cloud-based DVR functionality, largely redefining the television experience to erase the distinction between live and "On Demand" television content, allowing users to pick and choose content on Apple's terms.
Deals have not come easy for Apple, due to disagreements over control and and pricing. As with all of its products, Apple wants strict access to the user experience, which cable providers are reluctant to hand over.
In 2013 and 2014, Apple continued to pursue dealswith both cable companies and content providers, managing to secure content from companies like HBO, and ESPN through cooperation with cable companies. Users can access the content via their Apple TVs, channeled through Apple's user interface, but a cable subscription is still required. While Apple once aimed to replace cable companies, it now appears to be focused on enhancing existing television services instead.
A 2013 rumor suggested that Apple was also attempting to negotiate with cable companies and networks to allow customers to skip commercialswhen viewing content on the Apple TV, with Apple later compensating distributors for the lost revenue. This could potentially be rolled into an entirely commercial-free subscription TV service, or tied in to Apple's earlier ambition to combine live TV with recorded content.
Of particular interest in Apple's content enhancement endeavor is a potential deal with Time Warner, which could be Apple's first major move towards positioning itself as a true cable box replacement. Under the terms of the deal, Apple would provide a Time Warner Cable app on the Apple TV, which would allow Time Warner subscribers to watch live television through the Apple TV.
A partnership with Time Warner would likely entice other cable companies to agree to similar deals, which, in turn, would give Apple access to enough content to reasonably redesign and re-imagine existing content delivery systems, skyrocketing the popularity of its former hobby project.
In February of 2014, The Wall Street Journal indicated Apple had significantly scaled back on its TV ambitions. While the company was originally rumored to be seeking an a-la-carte cable service with advanced cloud functionality that would disrupt the traditional cable industry, it has abandoned those plans following continued difficult negotiations with content providers.
Instead, Apple is said to be seeking a more modest arrangement that would possibly see the company providing content from existing cable companies overlaid with an Apple TV-style interface or, as more recently rumored, creating a possible web-based television service that would bypass cable companies all together, offering content from programmers over the Internet.
Apple made the first baby steps towards such a service with the March 2015 announcement of anexclusive partnership with HBO, which will see the Apple TV and Apple's iOS devices as the sole products where HBO's new "HBO Now" channel can be accessed for a three month period. HBO Now is HBO's new Internet-based $14.99/month streaming service designed for cord cutters, and it makes HBO content available without a cable subscription for the first time. HBO Now launched on Tuesday, April 7.
When new subscribers sign up for HBO Now through the Apple TV, Apple collects 15 percent of the revenue from HBO. It has similar deals for other Apple TV channels in place, including Netflix.
HBO's adoption of a web-based subscription service may spur other content providers to make cable-free content available, making it easier for Apple to eventually secure content deals that bypass cable companies. The nascent shift towards web-based television is very promising for the company's ambitious television goals. Apple is still running into problems negotiating deals, and recent rumors have suggested Apple has clashed with Disney over how many Disney channels will be offered through Apple's new TV service. Apple is hoping to offer a limited number to keep costs down, while Disney wants its full channel lineup to be available.
Just after the announcement of Apple's partnership with HBO for HBO Now, rumors hit suggesting Apple may have finally secured the deals it needs to launch a streaming television service. According to reports, Apple will debut a streaming service with approximately 25 channels in late 2015 or 2016, partnering with ABC, CBS, Fox, and more. It's said to cost $30 to $40 per month. Apple is also in talks with Discovery and Viacom, but has not approached Comcast/NBC about a deal.
One rumor has said that Apple managed to secure deals by offering to share subscriber information with content partners, providing data on viewers, what's being viewed, and how long it is watched for. Apple is said to be asking its content partners to take on the job of streaming television shows and movies to its customers, handling the costs and the infrastructure associated with streaming content. Apple reportedly wants to leave infrastructure up to those who are familiar with it so Apple's resources can go towards hardware and software development.
Apple is said to be asking networks to negotiate with local affiliates to secure streaming television deals. Apple wants to be able include local content in its television service, letting people access local news stations. Apple believes local content is important for the success of its service, and affiliates are reportedly being told they will be able to share the revenue generated from Apple's streaming TV offering if they offer their feeds on the platform.
The Apple TV of the Future
ITV
Rumors of an Apple-branded television set have been circulating for many years, with prospective release timelines and production schedules shifting as time passes without a hint of an official product.
Piper Jaffray analyst Gene Munster has been one of the most persistent Apple television advocates, first stating in 2009 that the company would develop a television set.
While Munster has long held on to his TV set beliefs, wider media interest in an Apple television set did not ramp up until 2011, when a former Apple employee revealed the company had entered into a partnershipto produce an Apple-branded television set.
Rumors further picked up later that same year when Walter Isaacson's Steve Jobs biography revealed that Jobs had wanted to revolutionize the television industry, much like he transformed computers, music players, and phones. "I finally cracked it," Jobs is quoted as saying. A television set would sync with iOS devices, Macs, and iCloud, and would do away with complex remotes, utilizing the "simplest user interface" imaginable.
Jobs' television revelation contrasted with an earlier statement from then Chief Operating Officer Tim Cook, who declared in 2010 that Apple had "no interest being in the TV market," suggesting sentiments at the company had changed between 2010 and 2011.
"I'd like to create an integrated television set that is completely easy to use," [Jobs] told me. "It would be seamlessly synced with all of your devices and with iCloud."…"It will have the simplest user interface you could imagine. I finally cracked it."Walter Issacson – 'Steve Jobs'
In the wake of Jobs' statement, speculation about an Apple-branded television set hit an all-time high. Just days after the now-famous TV quote was published, Nick Bilton of The New York Times pointed to an anonymous Apple source who stated a television was a "guaranteed product for Apple," and that it had been in the works for years.
In January of 2012, multiple TV prototypes were said to be in the locked-down design studio of Jony Ive and in December of 2012, The Wall Street Journal confirmed that Apple was indeed in the early stages of testing television designs, though a television set was not yet a "formal project."
Unfortunately, Apple's testing did not result in a product worth manufacturing, and as of 2014, Apple ceased its work on developing a full-blown high-resolution television set, putting the project on ice. Apple was reportedly unable to come up with a feature set compelling enough to warrant entry into the highly competitive television market, despite years of research.
Before shutting down its television testing and reassigning the employees who worked on the project, Apple experimented with several different concepts and features. One of its early ideas was a transparent display that used lasers to display an image, but it used too much power and resulted in poor image quality.
Another feature Apple tested was a set of sensor-equipped cameras for a video calling feature similar to FaceTime, and there were also rumors that the company was looking into Kinect-like sensors,touch-based remotes, and Siri integration, some of which are now rumored for Apple's upcoming set-top box.
Over the years, rumors about the potential television set even ranged into the fantastical with one analyst claiming that Apple would introduce an "iRing" to facilitate motion control of the device. He also claimed that an iTV could interface with Apple'sApple Watch and that it would ship with auxiliary "mini iTV" screens similar to existing iPads.
When I go into my living room and turn on the TV, I feel like I have gone backwards in time by 20 to 30 years. […]

It's a market that we see that has been left behind. You know, I used to watch "The Jetsons" as a kid. I love "The Jetsons." We're living "The Jetsons" with this. It's an area of intense interest. I can't say more than that.Tim Cook on NBC's 'Rock Center' – December 6, 2012
I don't want to go into detail, as you might have guessed, but it continues to be an area of great interest for us. And I do think the Apple TV product and the relationships we've built around it and the work we've done technically around it provide a lot more knowledge that we would have had without that product. And frankly, the popularity of it has become much larger than we would have thought.Tim Cook at D11 Conference – May 28, 2013
It is not clear if Apple will revisit its television project in the future, but there's always the possibility that Apple will reevaluate its plans as technology improves. Though work on a television set has ceased for the time being, Apple CEO Tim Cook has said time and time again that television remains an area of intense interest for Apple.
Instead of developing a full television set, Apple is focusing its efforts on its Apple TV set-top box and a streaming subscription-based cable-free television product that will deliver a selection of channels to customers for $30 to $40 per month. Offering both the content and the delivery method gives Apple a way to revolutionize television without having to develop an actual television set and enter a highly competitive market.
Apple TV Timeline
AUGUST2015
Aug 30Next-Generation Apple TV Said to Launch in October for $149 or $199

Aug 28Apple TV Said to Have Motion Sensitive Remote Control Targeted at Casual Gamers
Aug 27Apple Invites Media to September 9 Event: 'Hey Siri, Give Us a Hint'
Aug 20Apple TV Fell to Fourth Most Popular Streaming Media Device in U.S. in 2014
Aug 13Apple Live TV Service Not Coming Until 2016
Aug 12Apple Recalling Small Number of Third-Generation Apple TVs Due to Faulty Part
Aug 7Apple to Debut New iPhones, iPads, and Apple TV on September 9
JULY2015
Jul 30Apple Plans to Debut New Apple TV in September With Touch-Based Remote, Full App Store
Jul 14Apple Enlists Networks to Negotiate With Local Affiliates in Streaming TV Talks
Jul 7'Showtime' Launches on Apple TV for $10.99 per Month
Jul 6How to Customize Apple TV to Show Only the Channels You Use
JUNE2015
Jun 9Apple Bumps Developer Test Device Limits to 100 Per Device Type, Including Apple TV
Jun 4Apple Dominates Authenticated 'TV Everywhere' Streaming With 62% Market Share
Jun 3Redesigned Apple TV Not Ready for WWDC Debut
Jun 3Showtime's Standalone Streaming Service Set to Premiere on Apple TV [Updated]
Jun 3Apple TV Confirmed as Central Hub for Remotely Controlling HomeKit-Enabled Accessories
Jun 2Apple TV Gains New National Geographic Channel
Jun 1Apple Won't Debut Subscription Television Service at WWDC
MAY2015
May 27CBS Likely to Reach Streaming TV Deal With Apple, Met With Eddy Cue Last Week
May 22Apple's Desire to Include Local Stations in Streaming TV Service Could Delay Launch Beyond WWDC